Image Support Extension

National Geographic's most basic package for ArcGIS makes it simple and convenient to import seamless topographic base maps into any ArcView 3.x or ArcGIS 8.x project.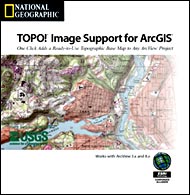 Product Features:

•

Import a seamless map across multiple USGS quads

•

Conveniently imported in a single layer or theme

•

Beautifully enhanced 3D shaded relief generated from NED elevation data can be toggled on/off

•

Supports a broad range of projections

•

Small file size

•

Photo quality, high-resolution graphics

•

Compiles map data from the award-winning TOPO! State Series software. Note: Not compatible with TOPO! Alaska or TOPO! Hawaii. (TOPO! state series software sold separately)

•

Premier topographic map set for the Geography Network

System Requirements:

Windows 2000, NT 4.0, or XP. ArcView 3.x or 8.x, ArcEditor 8.x, or ArcInfo 8.x
Image Gallery:

View screenshot images of the Image Support Extension >>

Purchase Information:

ArcGIS Image Support Extensions

$429.95

$70 off Suggested retail
Multi-layer Edition

The Multi-layer Edition, National Geographic's premier package for ArcGIS, allows you to import seamless topographic base maps, hillshades, and DEMs into ArcGIS.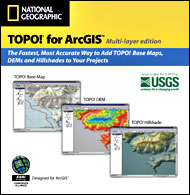 Product Features:

Includes all of the features of the Image Support Extension (listed at left) PLUS:

•

Import hillshades and DEMs in addition to seamless USGS base maps

•

Individual layers can be toggled on/off

•

Transparency, color ramps, and visible scale ranges can be adjusted separately

•

Combine any of the three layers to create the exact map you need

•

Compiles map, hillshade and elevation data from the award-winning TOPO! State Series software (sold separately)
System Requirements:

Windows 2000, NT 4.0, or XP. ArcGIS 8.2 or later.

Image Gallery:

View screenshot images of the TOPO! for ArcGIS Multi-layer Edition >>

Purchase Information:

ArcGIS Multi-Layer Edition

$899.95

$100 off Suggested retail